Redskins defeat Ada 8-7!!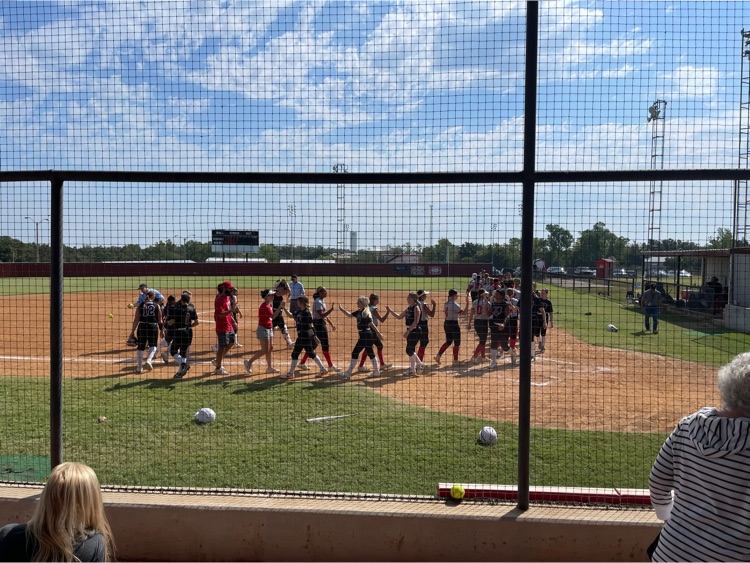 Lady Redskins start their tournament with two wins.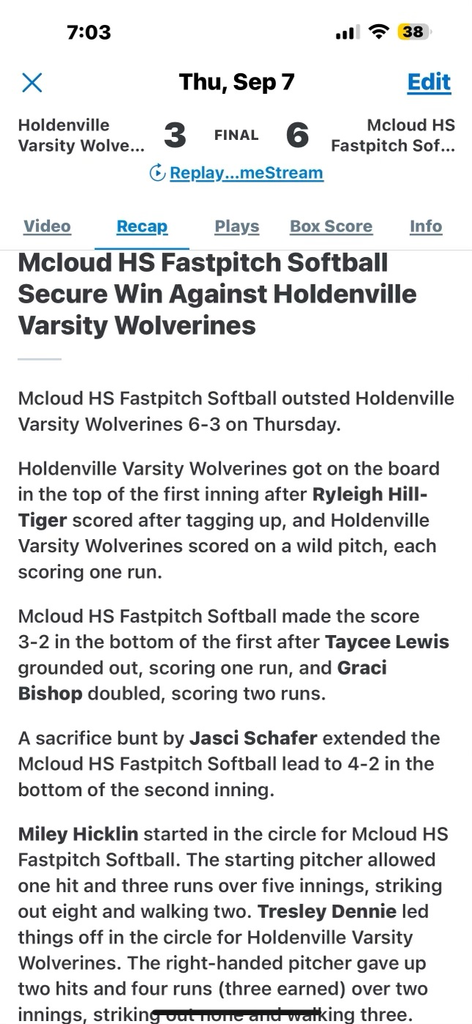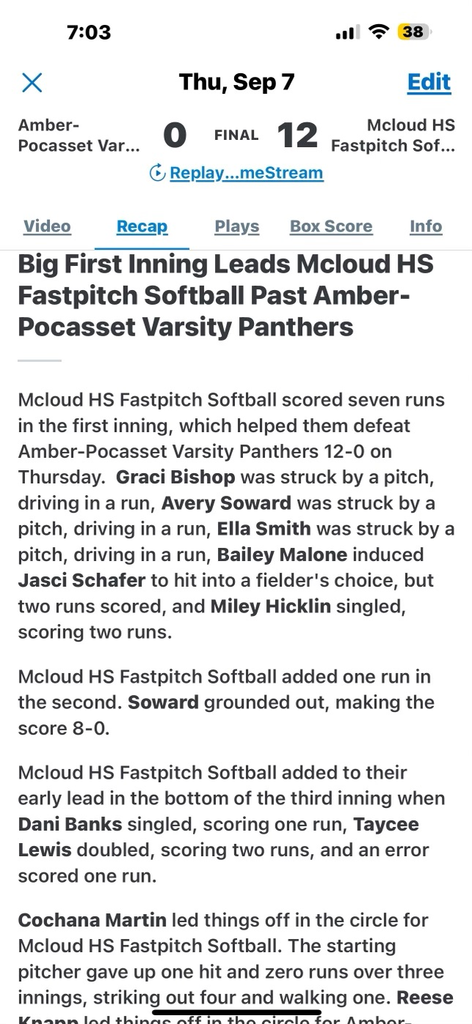 McLoud Family - Buses 6 and 11 will be running late today. Thank you.

McLoud Patrons- Attached is the CORRECT district map. Anyone living in the McLoud distrtict is able to vote for the bond issue on September 12th. Voting will be at your regular polling place. If you are uncertain where that is, you may go to:
https://oklahoma.gov/elections/ovp.html
and enter your name and DOB to find your polling place. I've also attached the sample ballot for the bond. State law requires transportation to be separated for the vote, hence two propositions. Don't forget that we have one last community meeting for the bond on Monday, September 11th at 5:00 pm at the McLoud School Board Office. Thank you for your support!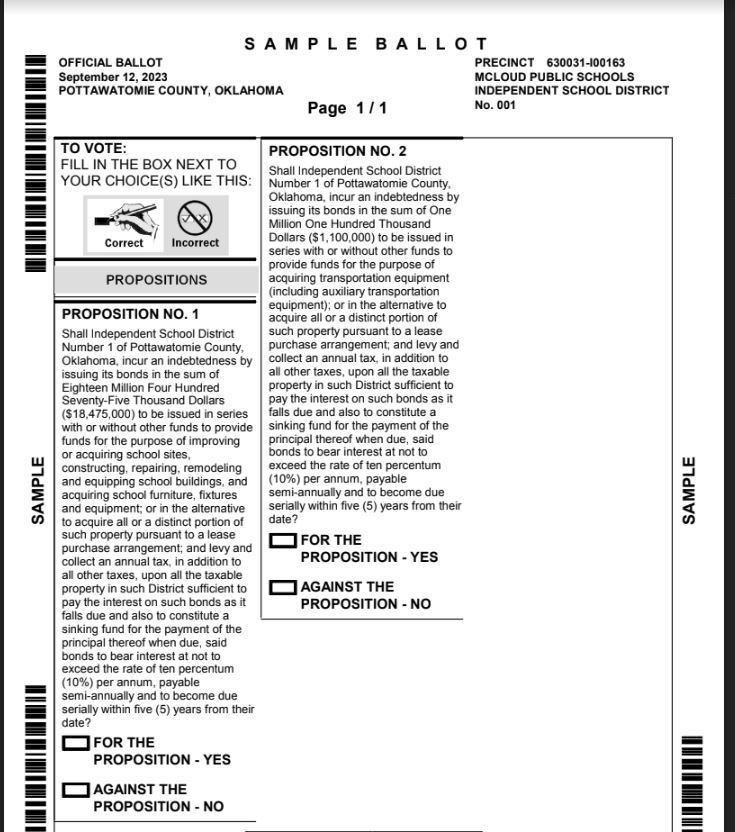 McLoud Family - Bus 11 will be running late this afternoon.  Thank you.
Fan information for tomorrow night's Football game at Bethel.
McLoud Tournament starts today!
Day 1 and Day 2 tickets for the McLoud Softball Tournament go on sale tonight at 6:00PM. These tickets are valid for all games at the McLoud site only!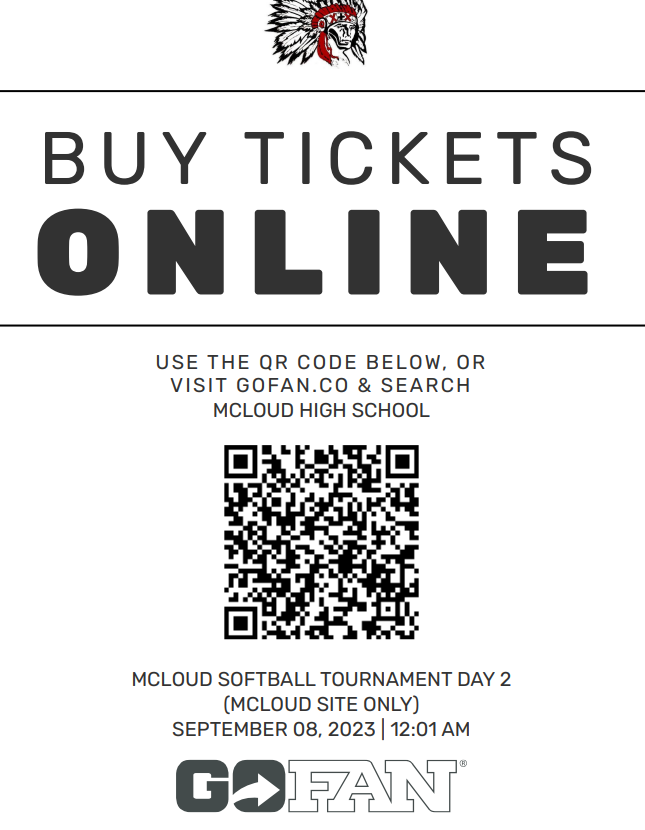 McLoud Family - Bus 14 will be running late this afternoon.  Thank you.

I wanted to give our patrons a visual break down of the budget for the upcoming bond issue. 56.4% of the funds will be used for safety and academics, 8.7% of the funds will be recurring bonds to be used for various projects across the district some of which are also safety related as well as technology and building upgrades, 8.1% of the funds are budgeted for the new track, 8.1% of the funds are also budgeted to turf the football/soccer field, 7.3 % of the budget is for new route buses, 6.3% is the required amount set aside as contingency funds, 4.5% is designated for architectural/engineering and surveying fees, and less than 1% is for furniture and equipment. We will hold one last community informational meeting on Monday, September 11th at 5:00 pm at the McLoud School Board Office. Voting will be Tuesday, September 12th. Thank you, Mrs. Rhonda Hockenbury McLoud Schools Superintendent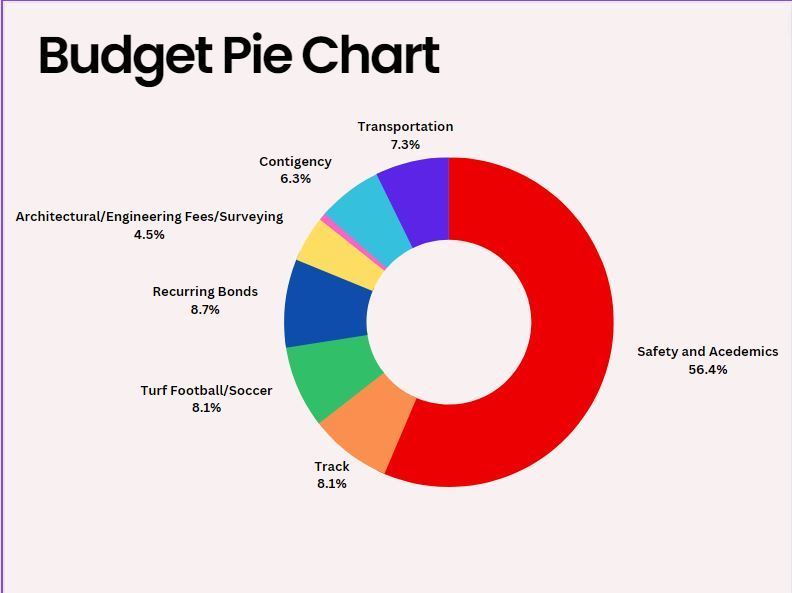 Information about purchasing tickets and parking for the big game tomorrow night. I hope to see you all there supporting our young men.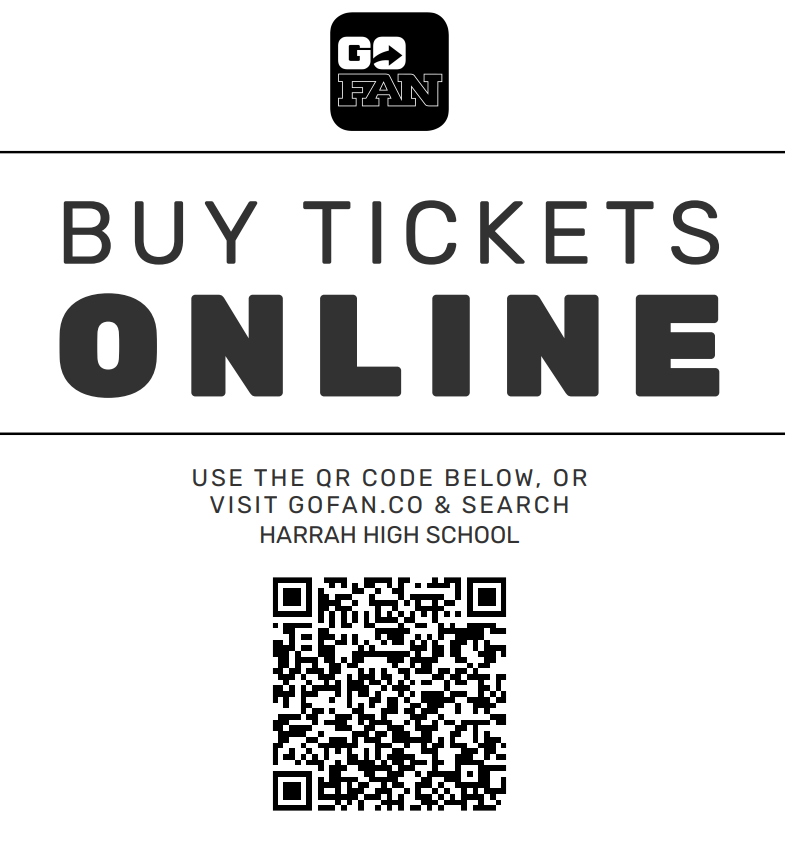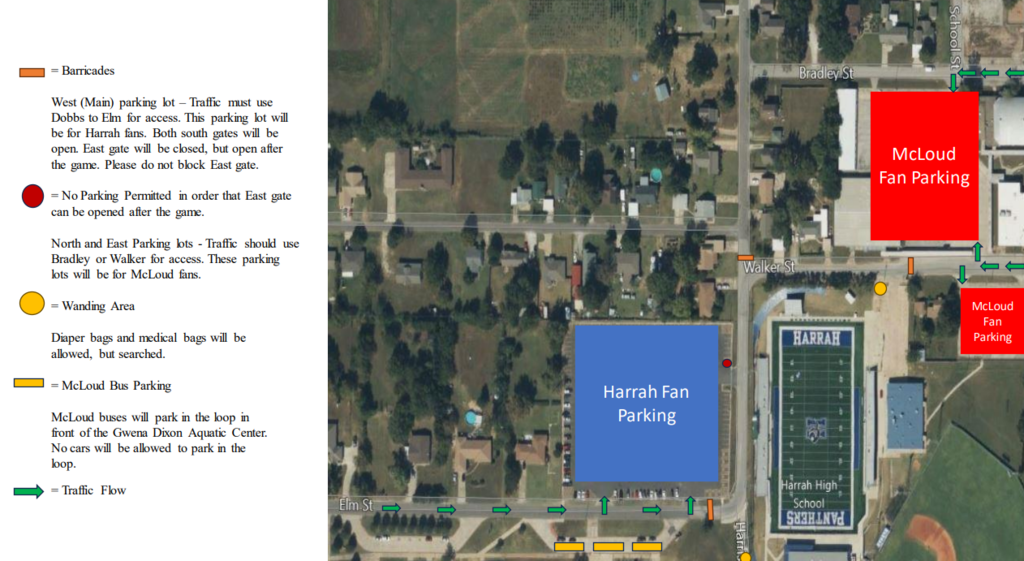 Now, more than ever, schools must take robust security measures to protect students and saff. Some essential security considerations are: 1) effective communication, 2) access control, 3) clear signage, 4) perimeter security, 5) cameras, 6) visitor management, 7) security lighting, 8) emergency procedure education, and 9) risk assessments. McLoud Public Schools has completed risk assessments at each building site, we have access control (badge readers) at main entrances, we use common language for drills and practice them frequently, we have purchased hand-held radios to communicate throughout the district, we updated camera equipment for multiple sites and areas throughout the district, we added fencing in some areas, we have worked with local authorities to develop emergency plans, we are in the process of adding clear signage to all building sites, and we employ a full-time resource officer. Our proposed bond issue will assist us in completing this list of safety measures. Double entrances will secure buildings and ensure all visitors are checked in through the office. Additional classrooms will limit student transition between buildings throughout the day. Finally, the bond will allow for additional fencing and security lighting across the district. Voting for the bond issue is Tuesday, September 12th.
The main gate will be available for cash patrons to enter. The first home game is September 15th. GoFan ticket purchases can not be screenshots and must be redeemed at the gate. Go Redskins!!!
To expedite entry into the stadium, the side gate will be available for GoFan/Family/Student pass holders to enter.
Security and efficiency changes coming. The inner gate will no longer be open to parking. Handicapped parking has been added in the main lot by access points. Emergency vehicles need the inner lot to be cleared of traffic.

McLoud Family - Bus 9 will be running late this afternoon.  Thank you.

We had a great informational meeting last night. Zack Robinson with Bank of Oklahoma explained district valuation and how mills were figured for bond issues. He reassured tax payers and gave great visuals to support his presentation. Geo Surfaces spoke about the advantages of turf including: environmentally friendly, year-round use, consistent playing surface, no fertilizing or pesticides, no watering, no painting, community multi-purpose, less maintenance, and concussion protocal testing. Safety continues to remain at the forefront of everyone's mind. Remember the bond will be providing numerous safety additions and upgrades to the district. We will have one last informational meeting on September 11th at 5:00 pm at the McLoud School Board Office. Voting for the bond will take place at your usual voting polls on Tuesday, September 12th.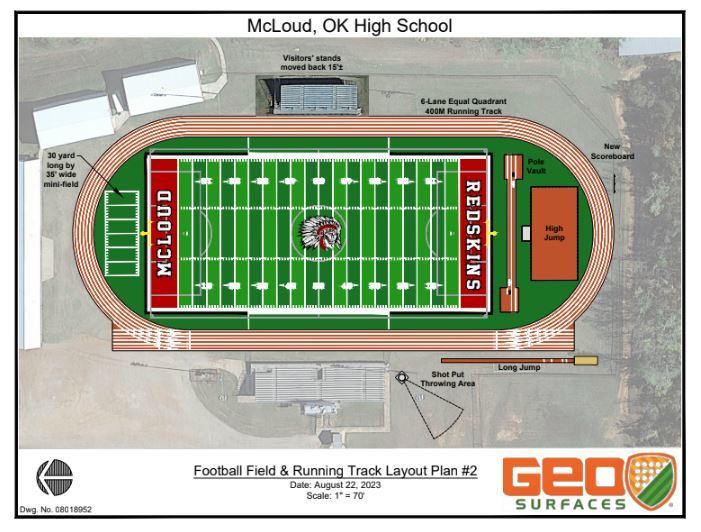 Redskin fans, Please come out Thursday night and support your Lady Redskins in softball. Tickets can be purchased at the game with cash or now using GoFan. Scan the QR code for direct access to GoFan.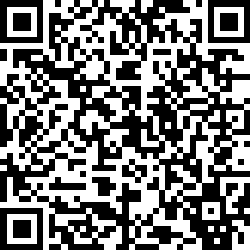 We want to pass along this important message from Harrah Public Schools. We will cooperate fully with them to provide these additional safety measures for Friday's game. We will also be working to put our own safety measures into place prior to our home opener on September 15th.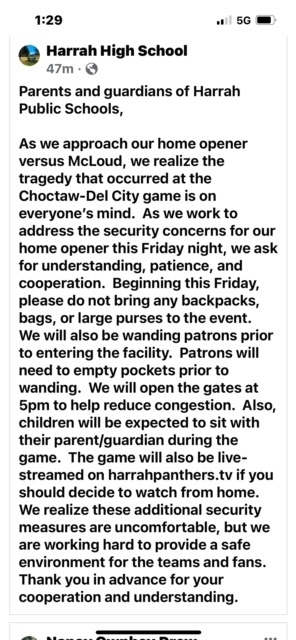 Congratulations Lady Redskins for placing second in the conference tournament.